Cavalcade of America - Old Time Radio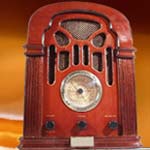 This series presented dramatic human interest stories made to evoke pro-America emotions. It highlighted triumph over trouble, courage, and fortitude. Every show opened announcing DuPont's motto, Maker of better things for better living through chemistry."
The DuPont corporation had survived an intense investigation of its wartime practices. DuPont's advertising agency created Cavalcade as a platform to reverse its image as war profiteers and "merchants of death." Over its duration, it aired on CBS, NBC Blue Network, and NBC Red Network between 1935 and 1953 in various time slots.
The show emphasized typical American themes -- pulling oneself up by the bootstraps, courage in the face of fearful situations, industry, innovation, and fortitude, for example. In the second season, Cavalcade aired biographical renderings of people like inventor Samuel Morse, rubber industrialist Charles Goodyear, Sam Houston, and the first woman doctor, Elizabeth Blackwell. In its attempt to counteract DuPont's image, no warlike sound effects or story themes were permitted, and it avoided anything that could be construed as controversial, even imposing an informal ban on airing anything about Negros. As time went on, the show evolved into an underlying advertisement about the benefits of chemical-related inventions that helped enhance the lives of every day people.

There are 313 shows in our collection!
Date Aired
The Will To Rebuild
October 30, 1935
Heroism In Medical Science
December 4, 1935
The Conquered Distance
October 16, 1935
The Humanitarian Urge
December 25, 1935
Defiance of Nature
December 18, 1935
Community Self Reliance
November 27, 1935
No Turning Back
October 9, 1935
The Spirit of Competition
October 23, 1935
Faith In Education
November 6, 1935
Women's Emancipation
November 13, 1935
Willingness To Share
November 20, 1935
No Turning Back-One Hour Show
October 9, 1935
The Will To Explore
December 11, 1935
Victor Herbert Master of Melody
July 8, 1936
Music of the Movies
September 23, 1936
Steamboat Builders
June 24, 1936
Showmanship
September 30, 1936
Songs of Home
June 3, 1936
Band Music in America - pt 1
July 15, 1936
Band Music in America - pt 4
August 5, 1936
American Journalism
July 1, 1936
Resourcefulness
May 27, 1936
Band Music in America - pt 2
July 22, 1936
Band Music in America - pt 3
July 29, 1936
Heroes of Texas
June 17, 1936
AND MANY MORE